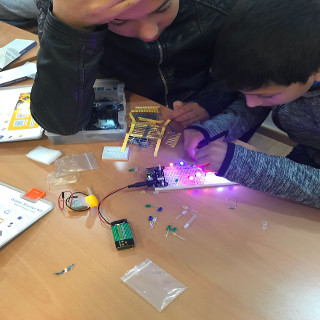 How I came up with the idea
One day I realized that I am a very privileged person, so because of this I also thought to my self that the majority of the people on the planet don't have access to any of the things that I use on a daily basis. This got me thinking what if I were to teach a programing class to kids that would normally not have access to this kind of thing.
At first I thought that I was just going to make a normal programing class but then I decided that the kids would maybe like it better if they were to produce a actual fiscal product. So I deiced that I was going to teach them a robotics class that was more centered around the idea of circuits and PCBs but still teaching them how to program, but mostly in Arduino.
Photo Album
About Olvidados
This project is made posible thanks to an NGO (non governmental organization) called Olvidados which provided me with a hall in which to teach and computers for all of the kids that I will be teaching too. I provided all the other things needed for the classes (Arduinos, motors, LEDs, jumpers…). I give a classes once every month to around 12 kids over the ages of 11.
Olvidados is an NGO that specializes in helping underprivileged children, but they are recently starting to focus more on giving food and utilities to Syrian refugees in the Greek refugee camps. Because of this, their was space for me to use one of the rooms in their centers, to give a class every three weeks.
Learn More